Well-behaved, curvy, modest. What is the biggest problem for women with more than  a slim size?
 Whatever she wears, she always looks curvy and a bit plump. Neat. Bland. Or roped up like a balloon with a tight belt, above big boobs, below big hips. Pinterest is full of pictures of women trying to copy their slimmer consexuals.
Honestly, to be curvy is not easy: the wide blouses create a big bust size, the long tops, shirts and pullovers worn above the pants, give the image of the neat and boring housewife and mom who tries to cover her belly. The interesting styles and clothes don´t fit and so..every curvy woman has to be satisfied with the average shirts and pants-program. Classical and conservative style consultants, fashion magazines and sales women try to "cover your bad curves", the cool fashionlabels just produce for the slimmer sizes. And typical "curvy fashion" is just bland and oldfashioned.  Bad, isn´t it?
👉👉Not completely. It is absolutely possible to break free from the "curvy and plump wife look" and go with the fashion party. What it needs: 3 things. Body strength, a lively appearance, style sense and skills and a great style. Unfortunately, you don´t get this in a shop, a magazine, from a classical style consultant- this is NOT general styling education. As we see how completely un-interested the fashionworld is at average body sizes, it  is my turn here to share with knowledeg as a stylist, designer and...curvy woman here with you. To make your style better and more fun. Ready?
How to look attractive as a curvy woman- 3+1 success strategies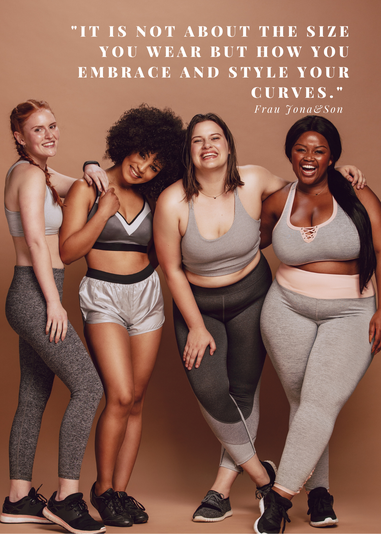 1.An agile body, a lively appearance

This is gold.
You create your lively appearanca and body when you move your body every day- let him move, swim, dance, bike, run, go, go stairs. A lively body is strong, has a nice muscle tone, a good body posture and body language. Flexible, charming body looks and feels fresh. By the way, every body can be moved. This is not a privilge of the slim and young people.
The truth is: a flexible and gracious plus size body is more attractive than a slim but stiff body.  You become a real magnet.
Tip: start with going, dancing in the morning, doing a little workout while brshing the teeth and have fun. My morning routine: squats and tooth brushung, a little plank in the morning for 20 seconds, some Yoga postures like the warrior....dancing in the kitchen :-)

The more you allow movement into your daily routine, the easier it gets to move...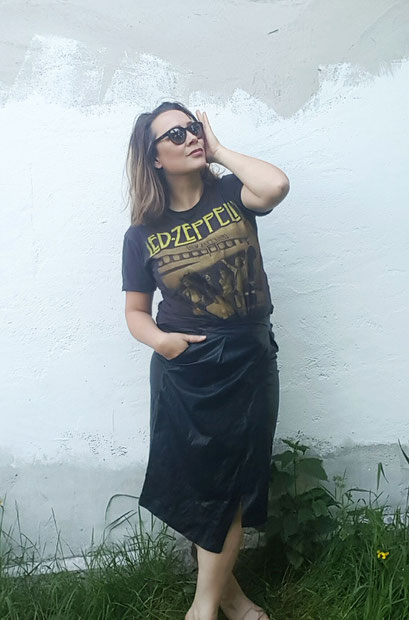 2. Styling-knowledge, skills and improvisation.

Modifying styles for your curves and body size.

You see a great look on a slim person. How can you adapt that look? You need style sense and a sense for proportions.
Curvy figures can look plump in wide bluses and skirts. Not like a gazelle. Here you need to play and style with shoes, shapes, colours and more.
Stretch the body

wear one colour from tip to toe, wear similar colours,
shoes and pants in one colour to stretch the legs
no long shirts, pullovers, etc worn over the hips
Slim the body

proportion!
How appear my shoes, the size of the pattern, the belt, the earrings, the hairstyle in comparison to my body shape and size?
You want to get your best styles in a shoirt time?  Just send me a message.

3. Brave and amazing style

Now it is time for a bold and brave style.
A "brave" style means: Don´t hold yourself back because of your curvy body. Just try instead. Pretend you love your body shape and then style.

Just imagine: You are the magnet of the party or meeting. Not the slim, blond lady. You own the world. Good style-news: You are allowed to choose different styles! Rocky, minimalistic, pure, feminine, edgy, boho- you can do everything- You as a woman wit curves are not fixed on the neat, bland house mom look with jeans and t-shirts, covering your body with cheap jersey or black colour. NO!

What you need: You have to overcome the fear of being visible. Fear of being jugded.

And: and you need this like the air you breathe- you need to accept your body as it is now!

A fashion expert from New York once claimed: Whatever you wear, hide and do, everyone sees your big butt."

That´s it.
The question is how you deal with it.  Best strategy: you ask for style guidance and help.
Secret style weapon: You accept your body and just love him. And let someone help you find your best styles, adapted for your body shape and proportion.

Now it is on you:  When everything was possible. How do you really want to look like? It is time to do it. When you want a style guide on your side, just send me a message. You and your goals are worth it.